NASHVILLE, Tenn. (February 13, 2017) – Fans of Go Time Records artist, Curtis Braly, will want to make sure they take part in the first annual Cruise with Curtis experience, set for April 7-12, 2018. Fans will be traveling aboard Carnival's Fun Ship Valor®, a beautiful Conquest-class ship that is sure to rescue you from ordinary vacations and whisk you away to leisure, fun… and amazing destinations.  
   
Cruise with Curtis will set sail on April 7, 2018 from Galveston TX, and will stop in Cozumel, Mexico before making its' next stop in Yucatan (Progreso). The ship will arrive back in Galveston on April 12th.  
During the Cruise with Curtis itinerary, fans will experience Cozumel Plus; a chance to experience this spot in a way many never get to. The sailing spends more time in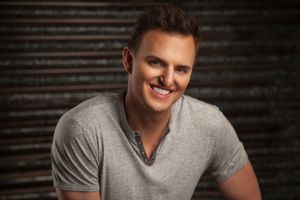 port, unlocking exclusive shore excursions that take you exploring further and adventuring more.  Plus, while in Cozumel, fans will get to attend an exclusive VIP event at the infamous party scene, Señor Frogs; a place where people of all backgrounds hang together, dance, sing and basically act the way they want without worrying about silly rules and regulations.  Then, a second stop that is sure to shake things up...Yucatan (Progreso).  All of this with 2 full FUN DAYS AT SEA, private cocktail party with Curtis Braly & a performance with the country artist onboard the ship!   
   
Braly grew up in Texas and has won over the hearts and ears of many around the world. Curtis recently recorded his third CD, with Kent Wells producing.  The project, titled YOU MATTER, is both personal and loaded with "BAM!".  
   
"I was not the popular kid in school; I was picked on and bullied as an elementary student all the way through high school", Curtis says. "That was a difficult time in my life.  But, it was an experience that made me stronger and I wouldn't change it for anything.  It taught me how important it was to be kind.  My motivation to prove to my peers that I was somebody special was healing.  Similarly, my motivation to record music with meaning is healing. Today, I have the advantage to utilize the various platforms (stage, television, radio) and now a cruise ship to share music with meaning—to show love for individuals from all walks of life."  
   
Cruise with Curtis promises to provide the Country Music fan not just a vacation but an experience – a five night cruise that includes accommodations and meals during the event, as well as an autograph session, meet & greet photo opportunity, cocktail parties, and a  LIVE musical performance. For more information about tickets, visit www.CurtisBraly.com/CruiseWithCurtis.  
# # #  
   
Suggested Tweet:  
.@CurtisBraly announces first annual #CruiseWithCurtis country music event aboard @CarnivalCruise .  Come aboard at <LINK>