Curtis Braly releases summertime single, 
"Song You Can Drink A Beer To" 
Nashville, Tenn. (May 19, 2017)  Go Time Records artist, Curtis Braly, has done it again with the release of his newest single, "Song You Can Drink A Beer To". The singer sets the tone for summertime fun & delivers lyrics that will relate to the everyday person's desire to enjoy life.  The drum & "hooky" guitar opener gears up the listener's ears and prepares them for the free spirited sing-a-long fun of this beer-drinking single.  "I really like how this song lyrically relates to such a wide assortment of people & circumstances. I'm pretty sure it delivers something for everyone," said Curtis Braly.  The single also showcases the extraordinary production talents of veteran Nashville musician and Grammy nominated producer Kent Wells (who has worked alongside Dolly Parton and other successful independent recording artists). 
His previous singles have enticed listeners around the world and "Song You Can Drink A Beer To" is no different.  The single is already receiving strong support from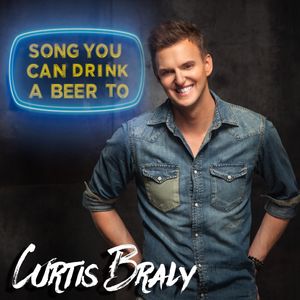 county radio.  "This song is musically intoxicating!  It will give you the buzz you need to get you through your day.," said Stan Soboleski of Froggy 97 in Watertown, NY.   
"Song You Can Drink A Beer To" is a perfect summertime hit with a riveting beat that will make you want to pop a top & turn up the radio.  The track starts with some "hooky" guitar riffs that make listeners want more.  In this single, Braly has crafted a catchy summertime tune that hits on life experiences of the everyday listener.  "Curtis has this amazing ability to make his musical stories unfold right before the listeners' ears," said Jeff Riley of Briley Media Group.  The single, from his latest album, You Matter, is available now and will hit radio June 12th, 2017. 
Braly is no newcomer to the music world; he has toured and shared the stage with such musical icons as Tanya Tucker, Clay Walker & Ty Herndon. Braly just returned home from a tour across Texas and is now preparing for a performance at his first Fan Appreciation party during the 2017 CMA Music Fest at Nashville's, The Stillery on June 10th, 2017.  
Braly's outgoing personality and his ability to bring a song to life on stage has won over the hearts and ears of many. His newest single, "Song You Can Drink A Beer To", is sure to attract fans from all around. 
For more on Curtis Braly, please visit www.curtisbraly.com or follow him on Facebook, Twitter and Instagram.  Find the new single now on iTunes at  https://itun.es/us/NbwMjb
# # # 
SUGGESTED TWEET: 
.@CurtisBraly releases new summertime single. #SongYouCanDrinkABeerTo